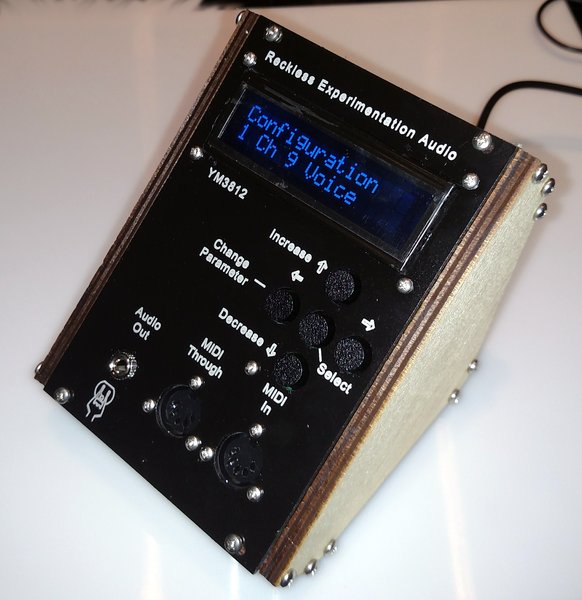 Reckless Experimentation Audio LLC
YM3812 Synthesizer
This device is based on the YM3812 FM synthesizer chip, and its companion the YM3014 digital to analog converter. It is a Eurorack module for use with a MIDI keyboard or controller, mounted in a laser cut plywood enclosure. It comes with a 12V power supply and provides mono line-out audio. Just plug in your MIDI keyboard and your ready to make sound.

The YM3812 has nine voices with 2 operators per voice that can be configured in either an FM or AM modulation.
The 9 voices of the YM3812 can be configured in 8 voice/MIDI channel combinations:
1 channel with 9 voices. Typical setting for use with keyboards
2 channels with 5 and 4 voices.
3 channels each with 3 voices.
4 channels with 3, 2, 2, and 2 voices.
1 channels with 6 voices and percussion mode enabled.
2 channels with 3 voices each and percussion mode enabled.
3 channels with 2 voices each and percussion mode enabled.
Percussion mode only, with non percussion voices disabled. Useful for keyboard compatibility.
Configuration is saved to non volatile memory. Along with the last saved or loaded instrument settings for each channel. Saved settings are loaded on power-up.
Each channel and percussion mode has a independently assignable MIDI address. Setting two channels to the same address with only play the first channel.
Watch this module in action here.
And here
Setup and configuration here
All sound generating parameters in the YM3812 are editable. 22 instruments and 6 percussion mode settings can be saved into non volatile memory. Several fully editable instruments come per programed. Such as "Synth", "Piano", "Galaxy", "Flute", "Stings", "8Bit" and percussion setting "Drums". Values for these presets can be found on the last page of the instructions. Percussion sounds are mapped to the first 5 white keys of each octave.
Connects with a standard 5 pin MIDI cable. MIDI Through connection provided to cascade multiple MIDI devices. Cables not included.
Audio out is provided though a 1/8" Mono jack. Output impedance less than 1000 ohms.
Module can be unmounted from its enclosure and used with standard Eurorack mounting systems.
Eurorack Stats:
Width: 17 hp
Depth 1.3 inches
Power consumption: 40mA @ 12V
0mA @ -12V.
Polarity protected.
Compatible with +-15V systems.